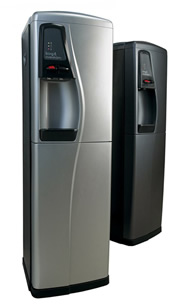 At Work
H2o have supplied first class and very efficient coolers into our office.  The service is first class and the water tastes great!
When it comes to water in the workplace, don't make do with "old style" coolers. H20 believes that water coolers should match the individual style of your office.  We provide complete water dispenser management from a single to multiple units, throughout large organisations – making us the first choice for many of the Island's leading businesses.
So call us today for a free, no obligation consultation and find out how much more H20 can offer your business.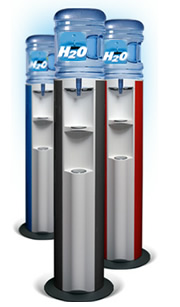 At Home
We really enjoy having cool, crisp spring water in our home.  It's so convenient and the cooler adds a touch of class.
Why make do with an ugly, grey office style cooler in your home when you can choose the "H20 Mix and Match Cooler System"?  These high quality, stylish coolers come with three water temperature settings, they're easy to clean and totally reliable.  Don't struggle home from the supermarket with lots of bottled water.
Why not call us today for a free, no obligation consultation and start enjoying cool, natural spring water… delivered to your home.